Commercial Residential House for Sale
115 Townsend Avenue, Boothbay Harbor



ME 04538
$395,000
Prime location for commercial building on tip of Townsend Avenue (All traffic leaving BBH) and Pear Street (All traffic entering East Side BBH). Visibility for marketing a business is perfect. Lot size is 0.18 acres with 7 parking spaces and off street parking. Total square footage is 2451' +/-. The 4 story building is in excellent condition with many upgrades to the charming New England style house built in 1887 including a new foundation, electrical and plumbing upgrades and a new roof (2017). A gem to own and further develop into a financially rewarding property. Ideas are boundless.
Apartment with separate entrance on Pear st.
Easy access to one level apartment with own entrance and mailbox. Take a look inside below:
Full Kitchen with heated tiled floor and large window.
Spacious living room with heated tiled floor. Lots of light and cool in the summer.
Living area has a space for office or a single bed.
Large bedroom with lots of wall cupboards for storage
Bathroom with washer dryer and a bath tub shown on the right.
Breezeway for storage and protects from heat escape in winter.
Office spaces on 1st floor with own entrance with ramp access.
Reflexology and Nail Care Office with side storage room. 14'6'' x 12' with small stainless sink, hardwood floor and built in cabinets.
Waiting room 14' x 6' x 10' 6"
Rest room with sink and toilet accessed through waiting room area.

Reflexology Room 14'6" x 12" Hardwood floors single sink, built in cabinets

 and a large storage room with shelves and cabinets.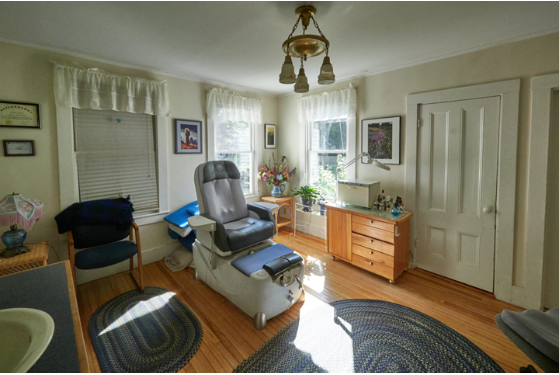 Take a video tour of the Vacation Rental
Townsend Harbor Rental
2nd and 3rd floors
3 Bedrooms, 2 baths, kitchen/living area, own entrance and parking.
Listing on Airbnb and VRBO
Income from Rent - Total combined Yearly Income $38,180
---
Apartment - 20 Pear Street
$830 monthly includes utilities.
Total for the year is $9,960
Office space on 1st floor
1) Skin Care Room $325 monthly rent
Total yearly amount $3,900
2)Massage Room - summer only $2,000.
3)Reflexology and Nail Care estimated $425 monthly rent
Total yearly income $5,100
Total income yearly income from Vacation rentals $15,000
Property tax - $2350 annually (2018)
Water and Sewer - $1081.42
Alina Blakesley, owner
I have enjoyed owning this building as an investment property for 17 years.
It is time to pass along the keys to a new owner that will build on the success established
as an income producing apartment /office space or a residential house with many possibilities.
If you are interested in a showing please call or txt, 207-633-1125
Call, txt or email with any questions
alina.blakelsey@gmail.com